What is your name and in which program are you enrolled?
Janine Gee, Nutrition Consultant Training Program
Where are you from originally and what led you to Bauman College?
I am originally from Vancouver, Canada, and I have been a homecook and lover of food my whole life. After moving to the Bay Area over seven years ago, I became interested in where food comes from.
Six years ago, I took a program through BiRite Market and 18 Reasons, aptly named Farm School, which explored the fundamentals of small-scale, sustainable, organic farming. The following year I became the coordinator for that program, started volunteering in community gardens with kids, and eventually went on to be the program manager and educator at a children's cooking school.
It was this connection to community and food-as-nourishment that made me realize it was time to follow my passion for local, seasonal, and thoughtfully produced food. I had heard about Bauman College for years and couldn't wait to start my journey.
What is the most interesting thing you've learned so far in the program?
Just thirteen classes in, the biggest takeaway for me is the fundamental and remarkable ability of the body to heal.
The work of healing requires us to be connected to our bodies and to invite nourishing practices into all areas of our lives—food being one of my favorites.
I also find it fascinating that we have more bacteria cells in our bodies than our own cells. Oh, the human microbiome…
What is your favorite health-supportive recipe?
Somewhere between a soup and a grain bowl, broth bowls are perfect for any meal. They are made of 5 main components: noodles or grain, broth or miso, cooked greens and vegetables, and a soft-boiled egg.
I recommend starting by cooking your grain or noodles. The rest of the recipe will take about 10 minutes to come together, so time the cooking of your starch so that everything is ready at the same time.
Healthful Broth Bowl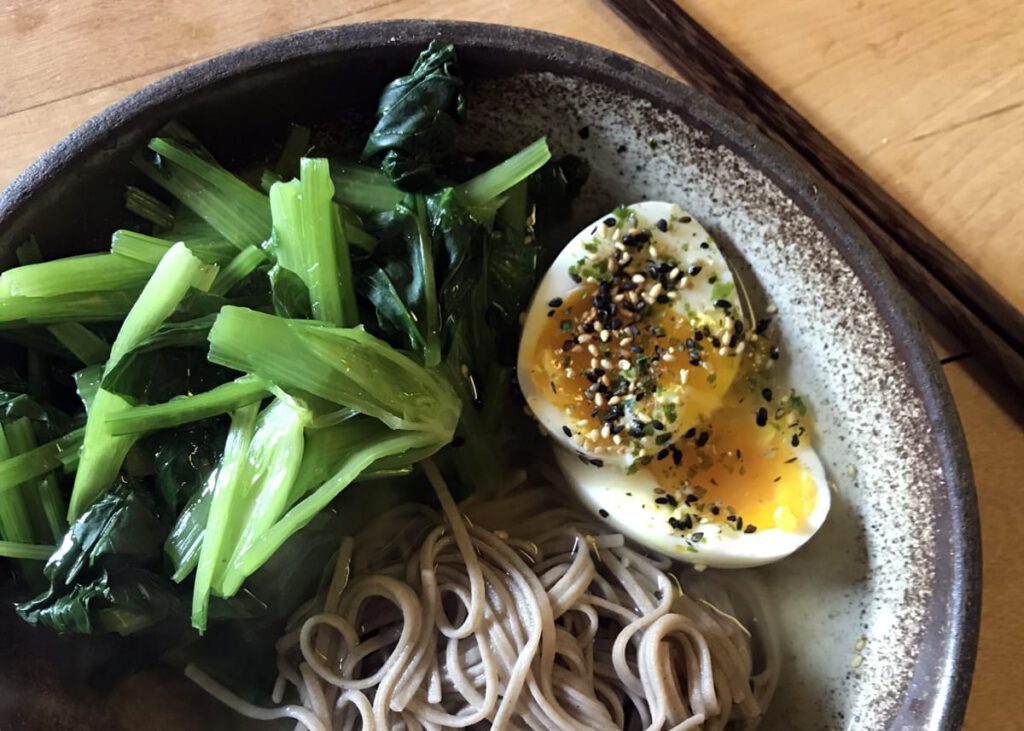 Notes: Use the highest quality broth possible—I recommend homemade or pints bought from a local butcher or trusted grocery store. Ideally you want organic, free-range bone broth. The better the broth the higher the collagen and mineral content, which is great for digestion.
If you are using miso instead of broth as your base, cook the vegetables in water and, after removing them, use the cooking water as your liquid and mix in 1–2 tsp of miso.
[b]Healthful Broth Bowl[/b]
Author:
Serves:
One serving, but it's simple to scale up.
Ingredients
1/2 cup grain or noodles, cooked (e.g. 100% buckwheat soba, rice noodles, brown rice, millet, quinoa, etc.)
1 free-range egg (or 2 if you want a little more protein), if refrigerated, bring to room temperature to prevent cracking
cold water
1 cup broth (chicken or beef bone broth, vegetable broth, or 1 cup water and 1–2 tsp miso)
1–2 cups greens (e.g. komatsuna, bok choy, collards, kale, spinach, tokyo turnip greens, etc.)
1 tsp sesame oil
1–2 cups vegetables (e.g. any combination of mushrooms (button or shiitake), tokyo turnips, zucchini, seaweed, broccoli, etc.)
salt or gluten-free tamari, to taste
toppings (optional): furikake, chopped herbs (cilantro), green onion, sauerkraut, kimchi
Instructions
Bring a pot of water to a boil and gently submerge the egg in the water with a slotted spoon.
Cook the egg for 6–7 minutes at a low boil (6 minutes for small eggs and 7 for large). Then rinse under cold water for 30 seconds to 1 minute, peel shell, and cut in half.
In a separate pot, warm broth. Add greens and cook until just tender.
Remove the greens and place them in a wide, shallow serving bowl. Drizzle with sesame oil.
Cook remaining vegetables in the broth until just tender.
Arrange the vegetables and grain of choice in your bowl.
Taste the broth and add a touch of salt or gluten-free tamari if needed. Pour over the greens, grain, and vegetables in your bowl.
Add the egg and toppings of your choice.
What are your plans for the future, after you graduate?
My goal is to create a space for people to connect deeply with their food, tap into their body's innate healing abilities, learn simple techniques for feeding themselves well, and find joy and community in food. I would like to work one-on-one with people, create easily accessible information on nourishment, and possibly teach classes.
Do you have any advice for those thinking about enrolling at Bauman College?
Ask to speak to a current or past student. Trust me, we're all obsessed with talking about nutrition and the program and will be happy to share our experiences.
Having a group of peers and connecting with other students or people in your wellness community during and after the program is truly invaluable.
Finally, trust your gut, if you feel like it's the time, you're right. Also be prepared for a good amount of reading and work outside of class, but it's all so interesting.