What is your name and in which program are you enrolled?
Lavanya Srinivasan, Nutrition Consultant Training Program
Where are you from originally and what led you to Bauman College?
I moved from South India to the U.S. nearly three decades ago and have lived mostly in the Midwest.
About a year and a half ago, my health was rapidly declining. I started looking into the root cause, and found the answer right in front of me—the food I was eating was making me sick. I changed my diet and lifestyle and experienced a quick recovery. My family and friends noticed drastic changes in my appearance and attitude.
I wanted to learn more about nutrition from a reputable school and started to research different programs that might be a good fit for me. After comparing programs from around the country and those recommended by the NANP, Bauman College made the shortlist.
I attended an open house in Berkeley and later sat in on a lecture. I decided to join the Bauman College classroom program that day.
What is the most interesting thing you've learned so far in the program?
I have learned many interesting things, but the thread that connects it all is that, at a cellular level, each one of us has unique nutritional needs and what works for one person may not work for another.
What is your favorite health-supportive recipe?
I enjoy the versatility of cooking and creating my own recipes. All of the recipes I make are plant-based and include four to five vegetables, at least two herbs or spices, seeds, nuts, and a grain. This formula provides an endless array of combinations and I enjoy playing with the fusion of flavors.
However, my favorite "feed my soul" recipe is well-cooked, brown basmati rice mixed with sesame oil and seasoned with a pinch of asafoetida, a teaspoon of mustard seeds, mineral salt, and one dried chilli pepper broken in half; topped with a generous helping of my homemade coconut yogurt.
Brown Basmati Rice with Coconut Yogurt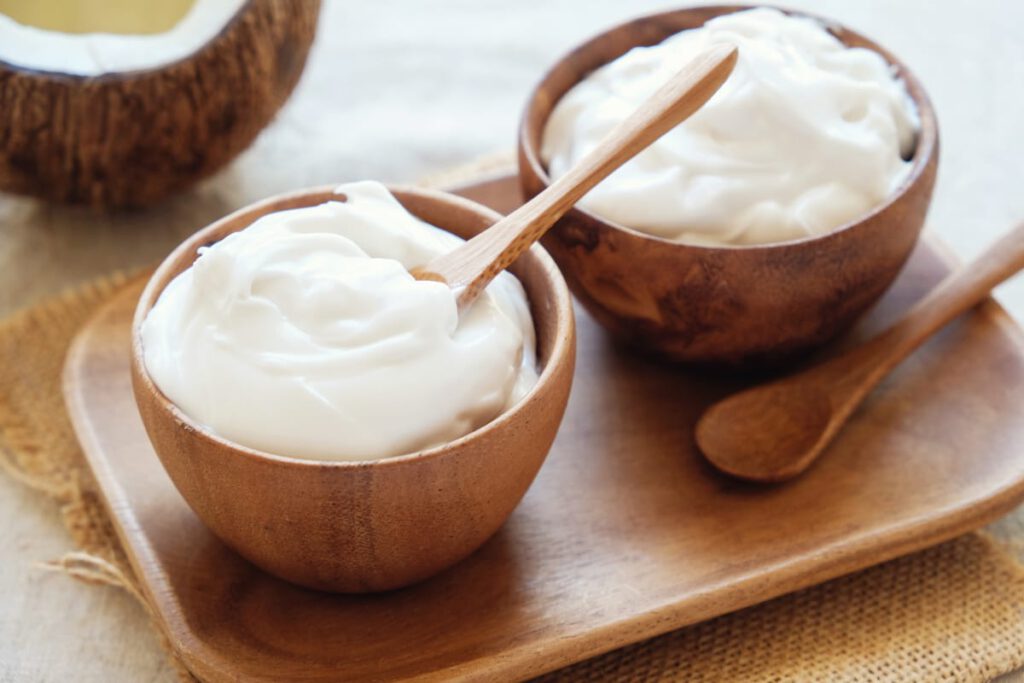 [b]Coconut Yogurt[/b]
Author:
Ingredients
1 32 oz can of full fat coconut milk (use brands that contain only coconut milk and water without any additives, such as [url href="https://www.amazon.com/gp/product/B00JUB8N3G/ref=as_li_tl?ie=UTF8&camp=1789&creative=9325&creativeASIN=B00JUB8N3G&linkCode=as2&tag=baumcollholin-20&linkId=9e1c4e58ef9b2605906bb7a23b5f47b4″ target="_blank"]Aroy-D[/url])
5 green chili pepper tops with stems
Instructions
[b]For the starter:[/b][br]
Simmer 1 cup of coconut milk on low heat until bubbles begin to rise.
Remove from heat and allow coconut milk to cool to room temperature.
Add green chilli tops, cover, and keep in a warm place. Be sure to use a cover that has slits or allows air to circulate and leave undisturbed until the mixture has a strong, sour odor (around 1–3 days).
Set aside ½ of the mixture to re-use for your next batch.
[b]For the yogurt: [/b][br]
Use remaining coconut milk and simmer on low heat until bubbles begin to rise.
Remove from heat and allow milk to cool to room temperature.
Add ½ of the starter from the recipe above, stir, cover, and keep in a warm place. Again, use a cover that allows air to circulate and leave undisturbed until the mixture has a strong, sour odor (around 1–3 days). You can re-use a portion of this yogurt as your starter for the next batch of yogurt.
[b]Brown Basmati Rice[/b]
Author:
Ingredients
2 1/2 cups water
1 cup brown basmati rice
1/2 Tbs sesame oil
1/2 tsp black mustard seeds
1/4 tsp asafoetida powder
1 dried red chili, broken in half
1/2 Tbs pink himalayan salt
1 cup coconut yogurt (see recipe above or substitute with any yogurt)
Instructions
Bring 2 1/2 cups water to a boil and add rice.
Reduce heat and simmer for 20 minutes, or until rice is soft, like the consistency of porridge.
In a small pan, heat sesame oil. When hot, add mustard seeds and cook until they begin to crackle and pop.
Remove from heat, add asafoetida powder and dried chilli. Sauté, stirring to coat chili in oil and combine asafoetida.
Add the oil mixture (with mustard seeds and asafoetida) to rice and season with salt.
Add 1 cup coconut yogurt to rice and combine.
What are your plans for the future, after you graduate?
As an immediate next step after graduation, I would like to get more hands-on experience in nutrition consulting and pursue an additional degree in a related field.
Long-term, I want to assist with the nutrition policy of the United States and start a non-profit organization that offers hands-on education to those who want to heal themselves with food.
Do you have any advice for those thinking about enrolling at Bauman College?
Bauman College's instructors are highly qualified with an impressive body of knowledge gained from years of experience and they keep current with the latest nutrition research.
Additionally, the Bauman Business Institute (BBI) coursework provides resources for seeking employment or starting your own business in the field of Nutrition Consultation.