When you think of culinary school, what comes to mind? A commercial kitchen? A chef's coat? A commute to campus? In a traditional sense, you're absolutely right. Bauman College however,  is certainly not the "traditional" model of a culinary college or cooking school.
Bauman College is proud to offer an ONLINE Holistic Chef Culinary Program. Yes, online, as in, from the convenience of your own home, or anywhere you want, dressed comfortably, and learning important skills to help yourself and others make nutrition and delicious food.
Holistic Chef Culinary Program Manager, Claire McCann, B.S., B.A., N.C. and current Holistic Chef Culinary Program Student, Camille Cribbs speak to the benefits of an online culinary program and what sets Bauman College apart from other culinary schools.
What are the benefits of taking the Holistic Chef Culinary Program online?
Claire: Taking the Holistic Chef Culinary Program online offers a number of benefits. One of the main benefits of taking this program online is the flexibility. Students get access to a few classes at a time, and the lessons, activities, cooking labs, and discussions have a due date that is a week later. This means within that time period, students can execute classes and associated assignments whenever it works for them and their schedule. In addition to schedule flexibility, the online program also gives location flexibility. If you plan to go away for a weekend, but need to continue your classes, you can execute classes anywhere with a kitchen and internet! An additional benefit of taking the Holistic Chef Culinary Program online is feeding yourself and your family! Everything you make in class, you get to eat.
Camille: What I like about the program being online is I can create my own schedule. As a massage therapist, my schedule fluctuates by week so it has been really beneficial for me to be able to have a flexible schedule when it comes to school. And I like that I can use my own kitchen since this will probably be the space I will be using when I work as a holistic chef.
How is Bauman College different from other culinary arts schools?
Claire: Bauman College's Holistic Chef Culinary Program is unlike that of all other culinary schools. At Bauman College, students receive an education on food and health that is just what the name implies: holistic. This means the education includes sourcing of high-quality ingredients, humane and sustainable farming, reducing waste, addressing inequities, human rights issues, and social injustices in the food system, and preparing foods for optimal nutrient absorption. The Bauman College programs also speak to mental and emotional health, lifestyle, and cultural traditions, as well as the health of the individual, community, society, and the earth and the interconnectedness of each of these things.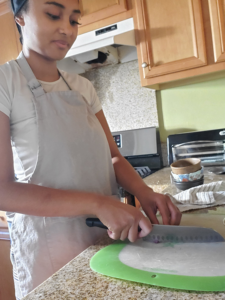 Camille: What is different about Bauman College is that we learn about food in a nutritious and yummy way. I enjoy cooking but always worried about if the food I am making was actually nutritious so I appreciate that in this particular program we learn about how to cook food while keeping and/or enhancing the food's nutrients.
The Holistic Chef Culinary Program is not only a holistic culinary program to become a holistic chef, but has created a great community for me. I feel that I have made lifelong connections with my classmates and instructors and it makes me feel empowered that I am learning information that can help others improve their quality of life.
Now is the time to look into Bauman College! As a leader in Holistic Nutrition + Culinary Arts since 1989, our online programs provide the flexibility you need with the professional training to help you have work you love!
Have Work You Love
Get the details on how to pursue a career as a Holistic Chef through Bauman College's 12-month ONLINE culinary school! Contact us to connect with an Admissions Representative today.