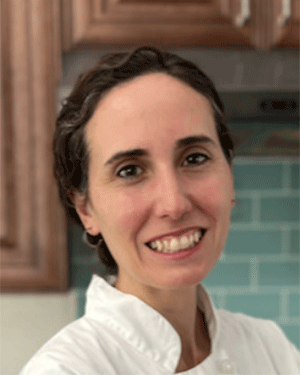 Holistic Chef Program Manager, Chef Carrie Bonfitto, shares a summertime recipe to keep you hydrated and satisfied in the midst of a scorching summer!
Watermelon is a Winner
Ask someone to name their favorite summer flavor and you're likely to get watermelon as a response. Whether it's the crisp cool crunch, the vibrant pink color, the sweet delicate juices, or just the nostalgia of summer picnics past, watermelon is a winner.
As a holistic chef, I love serving watermelon as a quick and healthy dessert. It contains 92% water to keep you hydrated during the hot days of summer. This juice along with the fiber and minerals in the fruit work together to keep your blood sugar from spiking too much when you eat it.
Watermelon is Technically a Vegetable
But there's no reason to relegate this favorite fruit to just the dessert table. It's technically a vegetable anyway; a member of the Cucurbitaceae plant family with relatives including cucumbers, squashes, and pumpkins.
Watermelon's versatility and mild flavor allow it to shine as an appetizer, salad, or component of a main dish. It's delicious paired with citrus, has an affinity for cheese, and is sturdy enough to take on the heat of the grill. (You can use it to make scrumptious grilled shrimp kabobs as both shrimp and watermelon only take moments to cook.)
Watermelon Pairs Perfectly with so Many Flavors
There are so many flavors that pair perfectly with watermelon. If you are looking for a fun summer activity that is both creative and tasty why not treat yourself to a watermelon flavor pairing experiment? All you need is a few ingredients and a willingness to try anything once!
Just slice up some watermelon and gather a few toppings, such as:
Lemons or lime zest and juice
Ricotta Solada, Feta, or Parmesan Cheese, thinly sliced
Smoked Salmon or cooked shrimp, sliced
Red Onion, thinly sliced or pickled
Pistachios or almonds, chopped
Cucumber slices
Avocado slices
Mint, basil, and or cilantro leaves
Honey
Curry power
Chiles, thinly sliced or chili powder
Balsamic Vinegar
Salt and black pepper
Now top each slice with a selection of 2-3 different ingredients and enjoy the flavor explosions! This is fun to do with a group. And as a chef, it helps you create future menus as it gives you great intel on what flavor pairings the majority of the group is drawn to.
Some of my favorite combinations with watermelon are:
Feta, Mint & Balsamic Vinegar
Pistachios, Honey & Black Pepper
Onion, Lime & Chili
Lemon, Cucumber, and Avocado
Onion, Salmon, and Cilantro
Or if you'd like to make a composed dish that incorporates many of these flavors that elevate the humble watermelon into a fine dining delight, try making my Watermelon Salad with Chile Honey Vinaigrette.
Check out the recipe below and learn more about Chef Carrie and the rest of the Holistic Chef Team by visiting our faculty page.
Watermelon Salad with Chile Honey Vinaigrette
Servings: 4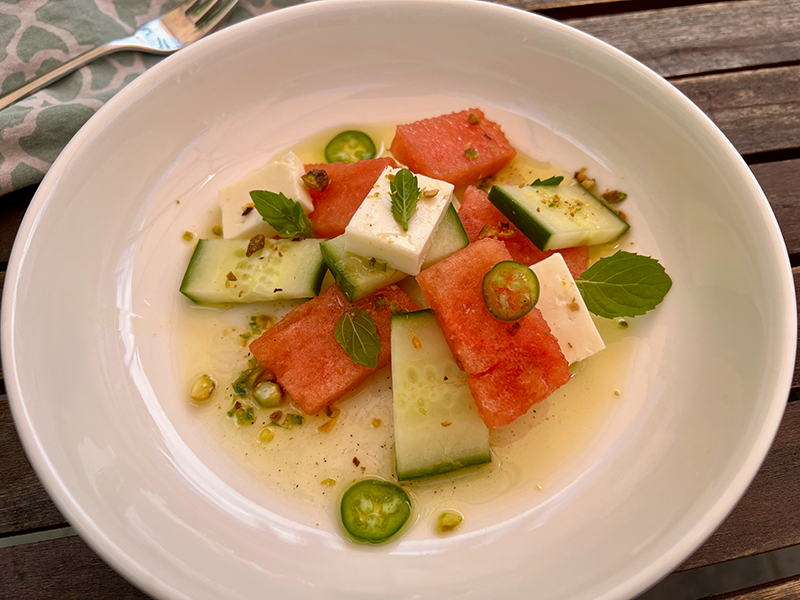 INGREDIENTS
¼ cup pistachios, toasted
1 English cucumber
¼ of an 8-10 inch seedless watermelon
8 oz Feta block
½ jalapeno pepper (thinly sliced)
2 tablespoons white wine vinegar
1 teaspoon honey
¼ cup extra virgin olive oil
½ cup mint leaves
sea salt & black pepper
INSTRUCTIONS
Finely chop half of the pistachios. Leave remaining nuts whole; set aside for garnish.
Slice the watermelon, cucumber, and feta into bite-sized planks.
Whisk chopped pistachios, chile, vinegar, and honey in a small bowl.
Gradually stream in oil, whisking constantly until emulsified; generously season dressing with salt and pepper.
Drizzle dressing onto 4 plates. Neatly top with mint and season with salt and pepper. Garnish with reserved nuts.
Have Work You Love
Get the details on how to pursue a career as a Holistic Chef through Bauman College's 12-month ONLINE culinary school! Contact us to connect with an Admissions Representative today.