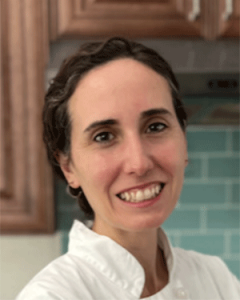 While the growing season may be over in many parts of the country, there is still bountiful produce that stores well and can be enjoyed during the colder months.
Holistic Chef Online Culinary Program Instructor, Chef Carrie Bonfitto's favorites of these are the winter squashes and citrus fruits! And wouldn't you know, they pair well together in this recipe for Winter Squash with Citrus Chimichurri. 
Gourds are both Decorative and Delicious
Some of the most famous and tasty winter squashes are delicata, butternut, kabocha, and acorn. These gorgeous gourds are both decorative and delicious! So after you are done enjoying them as a center piece you can cook them up in stews, pies, quick breads, or simply roast them to perfection.
While a few varieties like the butternut squash and the pumpkins should be peeled before eating, the skin of delicata, kabocha and acorn squash can (and should be) enjoyed! The skin provides extra fiber which is often lacking in most diets. This fiber helps to balance blood sugar and reduce overeating by keeping you fuller longer. Plus, the chew in the skin provides good textural contrast from the soft and luscious interior.
A Colorful Pop in Your Wintertime Menus
Chef Carrie offers a twist on the traditional Argentina chimichurri sauce by using seasonal citrus as the sour component. Plus, she puts them together to create a colorful pop in your wintertime menus.
This recipe calls for the beautifully stripped delicata squash, but you can easily adapt it to use any winter squash of your choosing. Try this satisfying way to get your veggies even when it is snowing!
Check out the recipe below and learn more about Chef Carrie by visiting our faculty page.
Winter Squash with Citrus Chimichurri
Prep Time | 10 minutes
Cook Time | 30 minutes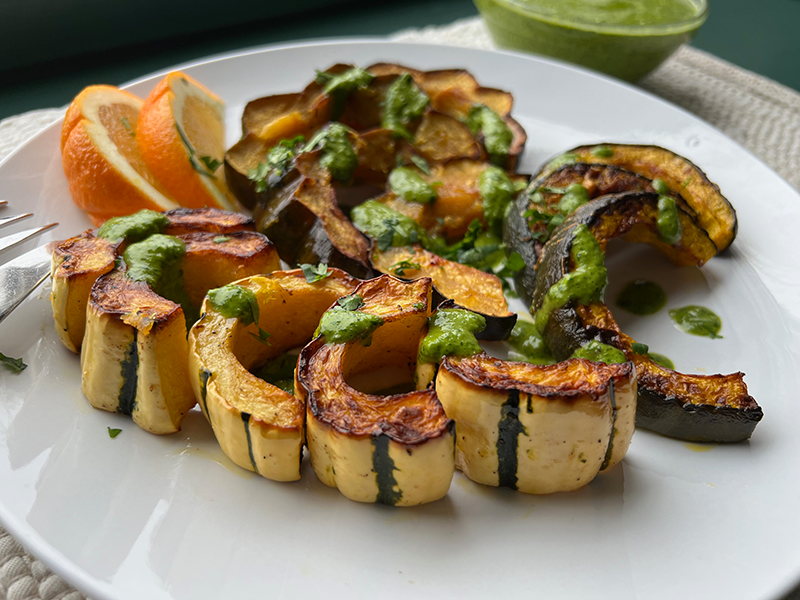 INGREDIENTS
Squash
2 medium delicata squash (about 2 pounds)
2 tablespoons melted butter
Sea salt and pepper, to taste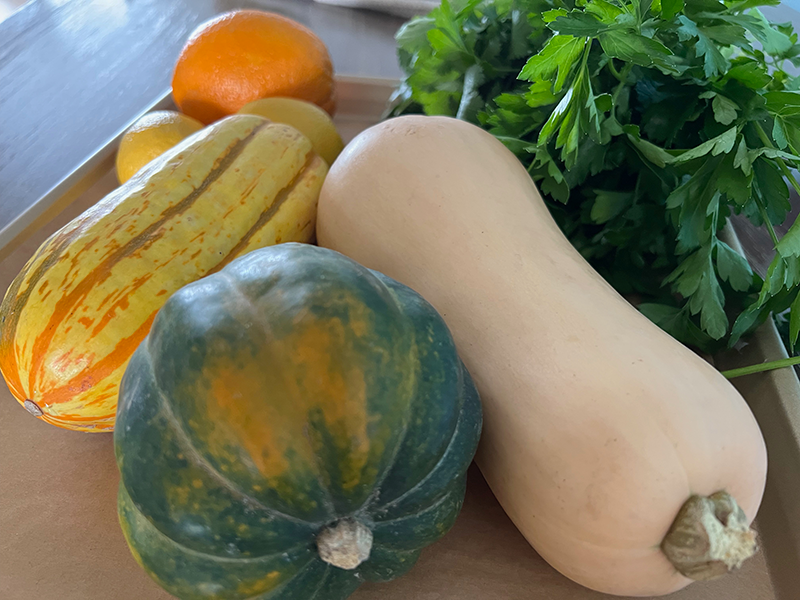 Chimichurri
1 cup parsley (large stems removed), well-packed
1/2 cup fresh cilantro, well-packed
2–3 cloves garlic
½ cup olive oil
¼ cup freshly squeezed lemon juice
¼ cup freshly squeezed orange juice
1 teaspoon salt, plus more to taste
Freshly ground black pepper to taste
INSTRUCTIONS
Preheat oven to 400 degrees.
Trim both ends of the delicata squash. Stand it up on one of the cut sides and slice it lengthwise, creating two even halves. Scoop out the seeds and stringy flesh with a spoon.
Place the flat cut side down and slice into 1-inch-thick slices. Repeat with the second squash.
Transfer the slices to a large bowl. Add melted butter, salt and pepper and toss to evenly coat the squash.
Arrange the squash on a parchment lined baking sheet with an even amount of space between each slice. Roast for 20-25 minutes flipping halfway through. Squash is done when it is golden brown and pierces easily with a fork.
Meanwhile, in a food processor or high-speed blender, add all chimichurri ingredientsand process on Low until chunky sauce forms.
Arrange the cooked slices of squash on a serving platter and top with the chimichurri.
Note: Refrigerate any leftover chimichurri in an airtight container for up to 7 days.
Have Work You Love
Get the details on how to pursue a career as a Holistic Chef through Bauman College's 12-month ONLINE culinary school! Contact us to connect with an Admissions Representative today.