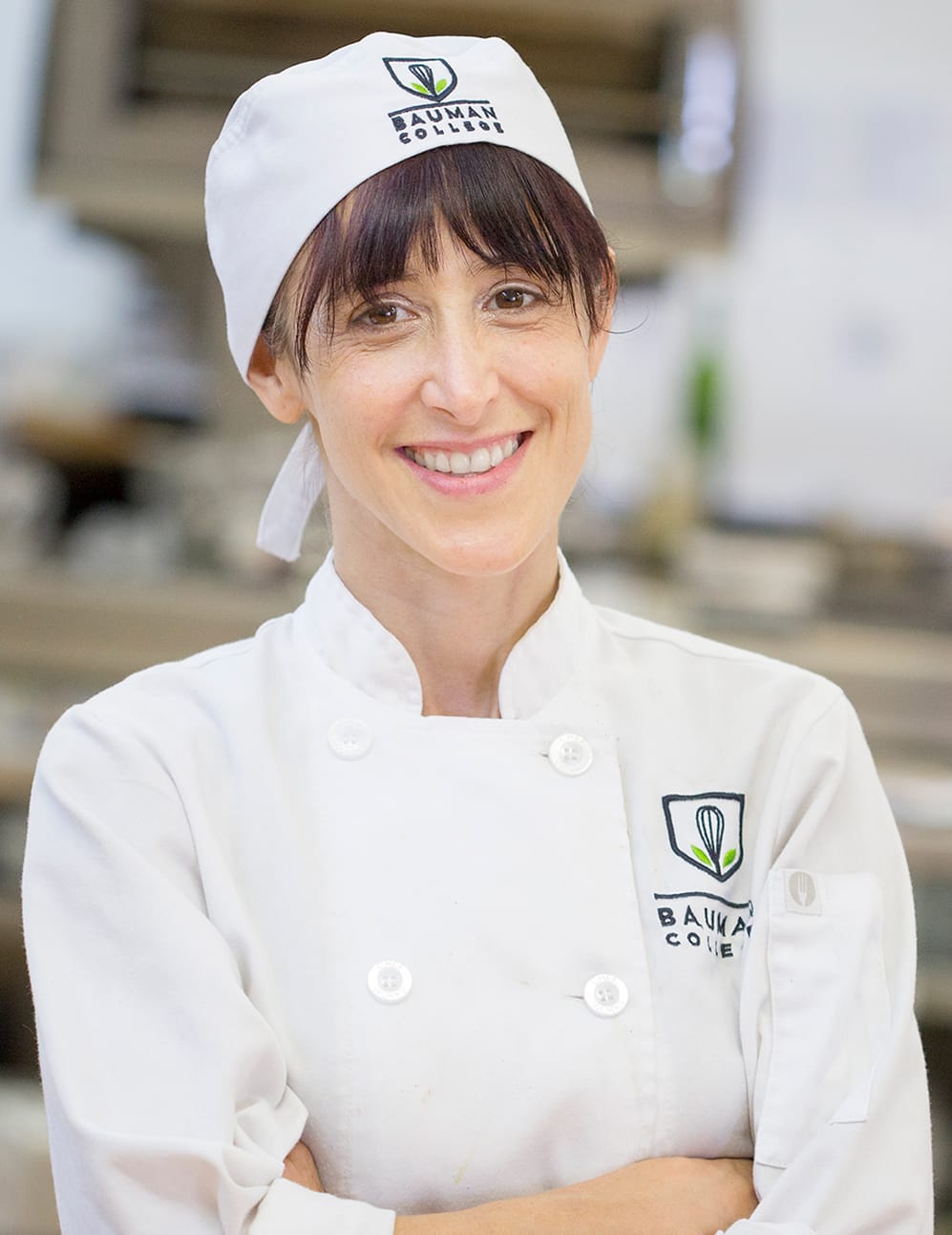 My name is Shoshanna Levy and I am a recent graduate of the Natural Chef program. In 2008, I completed the Nutrition Consultant program and began my own consulting business, Rogue Food, where I realized I enjoyed cooking for my clients as much as, if not more than, sharing nutrition information and advice. I'm a hardcore food geek and love learning and expanding my education, so I decided to add culinary skills to my repertoire. When it came to choosing a culinary school, I knew from experience that Bauman College's principles aligned with my own.
I had been cooking for years, but had never taken any knife skills or culinary technique courses, so one of my favorite parts of this program was learning French cooking techniques. I also love dishes that have strong flavors—like Asian, Mexican, and Caribbean cuisines—so I really enjoyed learning how to build flavor in a dish with aromatics, like mirepoix and soffritto.
Now that I have completed my culinary training, I plan to work with busy professionals who love eating nutrient-dense, whole foods, but don't have time to cook. I would also like to host dinner parties, potlucks, and cooking classes. In the future I hope to travel the world, cooking for retreats, or even working with other practitioners to create retreats. My mission is to educate and inspire everyone to eat real food—the possibilities are endless!
Follow my journey here: Rogue Food, Facebook, Instagram, Twitter, Pinterest
"Alien in the Garden"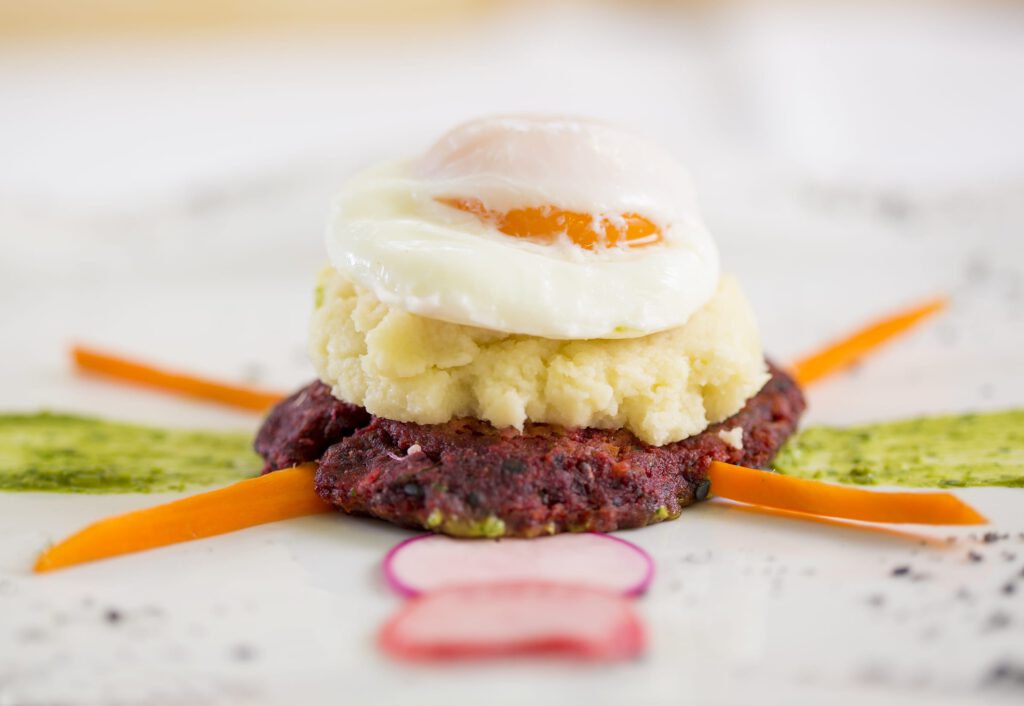 I thought it would be fun to assemble a few brightly colored recipes into one playful dish that tantalizes the senses with well-balanced, nutrient-dense ingredients. I call this creation, "Alien in the Garden."
[b]Avocado Herb Sauce[/b]
This versatile and nourishing sauce can be used as a spread for wraps or sandwiches, a dip for crackers or veggies, and even a topping for soups, eggs, and stir-frys! Avocados contain heart-healthy, monounsaturated fat, in addition to vitamin E, folate, magnesium, and beta-carotene.
Ingredients
2 medium avocados
2 Tbs toasted sesame oil
1 bunch cilantro
1 bunch parsley
2 cloves garlic
1 inch fresh ginger, grated
2 tsp sea salt
Instructions
Combine all ingredients in a food processor and blend until mixture is creamy and smooth.
Notes
[b]Allergens:[/b] sesame
[b]Carrot + Beet Fritters[/b]
These brightly colored fritters are a fun and tasty way to add fiber, antioxidants, vitamins, and minerals to your meal. Carrots not only add a pop of color, they are also loaded with beta-carotene, a phytonutrient found in orange foods. During digestion, it converts into vitamin A, which supports eye, skin, and liver health.
Ingredients
1 small beet, grated
1 medium carrot, grated
1 green onion, thinly sliced
2 Tbs sesame oil
1 Tbs fresh ginger, grated
2 garlic cloves, chopped
1 Tbs brown rice vinegar
1 Tbs lime juice
½ bunch cilantro
2 tsp sea salt
¼ cup buckwheat flour
¼ cup coconut flour
1 Tbs coconut oil
Instructions
Combine all ingredients, except buckwheat and coconut flours, and coconut oil in a food processor. Blend until mixture is smooth.
Transfer mixture into a medium bowl and add flours. Mix by hand, until well combined.
Heat medium cast iron or stainless steel pan over medium heat.
Add coconut oil. When oil shimmers, add fritters to pan. Cook on each side for 4–5 minutes, until browned and crispy.
Notes
[b]Allergens:[/b] sesame
[b]Cauliflower Mash[/b]
Cauliflower is a member of the cabbage family, and it is packed with fiber, minerals, and vitamins. Cauliflower also makes an excellent substitute for rice or potatoes.
Ingredients
1 medium head cauliflower, cut into florets
2 cloves garlic, chopped
2 Tbs ghee or coconut oil
2 tsp sea salt
1 Tbs coconut aminos
Instructions
Steam cauliflower, 5–6 minutes, until tender.
Transfer cauliflower and remaining ingredients into a food processor. Purée until smooth and creamy.
Notes
[b]Allergens:[/b] dairy
[b]Poached Egg[/b]
Eggs are packed with omega-3 fatty acids and brain-supporting lecithin, and add a nice pop of color to this dish. When shopping for your ingredients, be sure to select pasture-raised eggs. The living conditions are better for the chickens and their eggs are more nutrient-dense.
Ingredients
3 cups filtered water
1 tsp sea salt
1 Tbs rice vinegar
1 pasture-raised egg
Instructions
Fill a medium saucepan halfway with water and add sea salt. Bring water to a gentle boil, then reduce to a simmer. Add vinegar to water.
Line a plate with paper towel.
Crack egg into a large ramekin. Hold ramekin just above the water level, and slowly pour egg in. Cook 3–5 minutes until egg white is no longer translucent. Scoop egg out with a slotted spoon and place on plate.
Notes
[b]Allergens:[/b] egg
[b]Quick Pickled Radishes[/b]
Radishes provide a nice crunch to any dish and are a great source of vitamin C, which supports the immune system. Radishes also support the liver and gallbladder and are packed with antioxidants, such as lutein, zeaxanthin, and beta-carotene.
Ingredients
1 bunch Easter Egg (rainbow) radishes
½ tsp red pepper flakes
¾ cup apple cider vinegar
¾ cup water
2 tsp maple syrup
2 tsp sea salt
Instructions
Using a mandoline, thinly slice radishes.
Place radish slices into a pint-size mason jar and add red pepper flakes.
Combine apple cider vinegar, water, maple syrup, and sea salt in a small saucepan over medium heat. Bring mixture to a boil, stirring occasionally.
Let mixture cool for 5 minutes, then pour over radishes.
Radishes will be ready to eat in about an hour. They can be stored in the fridge for 3–4 weeks.
Notes
[b]Allergens:[/b] nightshades
Assembling This Dish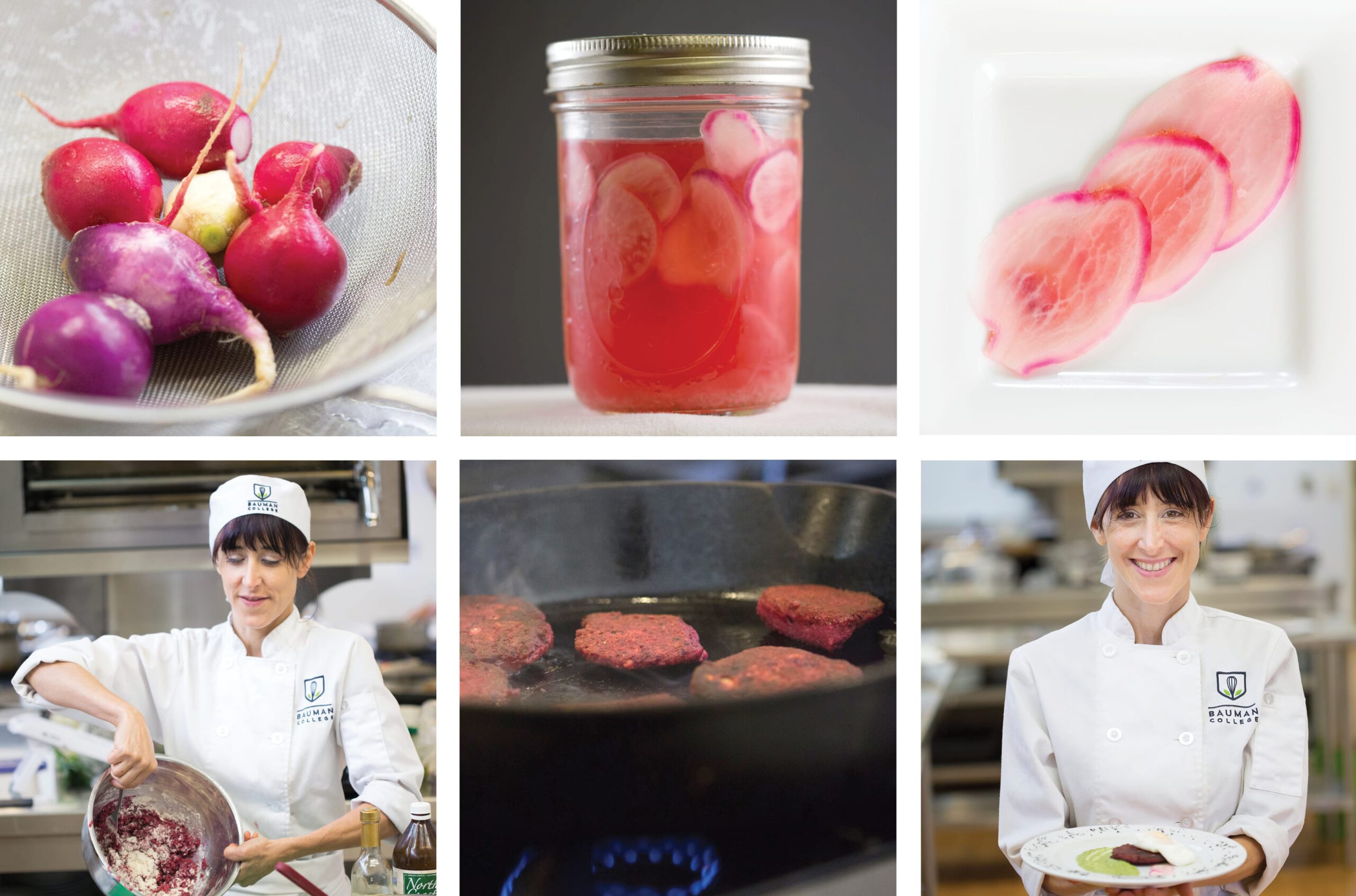 Use the instructions below to create the "Alien in the Garden" dish as pictured; or get creative and make your own version!
Use a spoon to make a design on your plate with the Avocado Herb Sauce.
Place one Carrot + Herb Fritter in the center of the plate.
Top with Cauliflower Mash and garnish with your poached egg.
Use your pickled radishes to decorate your plate.
Optional: create legs and arms with carrot sticks and sprinkle black salt or sesame seeds on the plate.