It's October 4th and that means it's National Taco Day! Tacos are loved all over the world and can contain any combination of protein, vegetables, and toppings.
So, you know when Bauman College creates a taco, we want to include as many delicious, health-supportive veggies and legumes as possible, without sacrificing flavor.
The Bauman Taco, created by Lead Natural Chef Instructor, Marie Brennan, uses black beans, nopales (or cactus pads), yellow onion, maitake mushrooms, and a delicious cashew cream to make it dairy-free!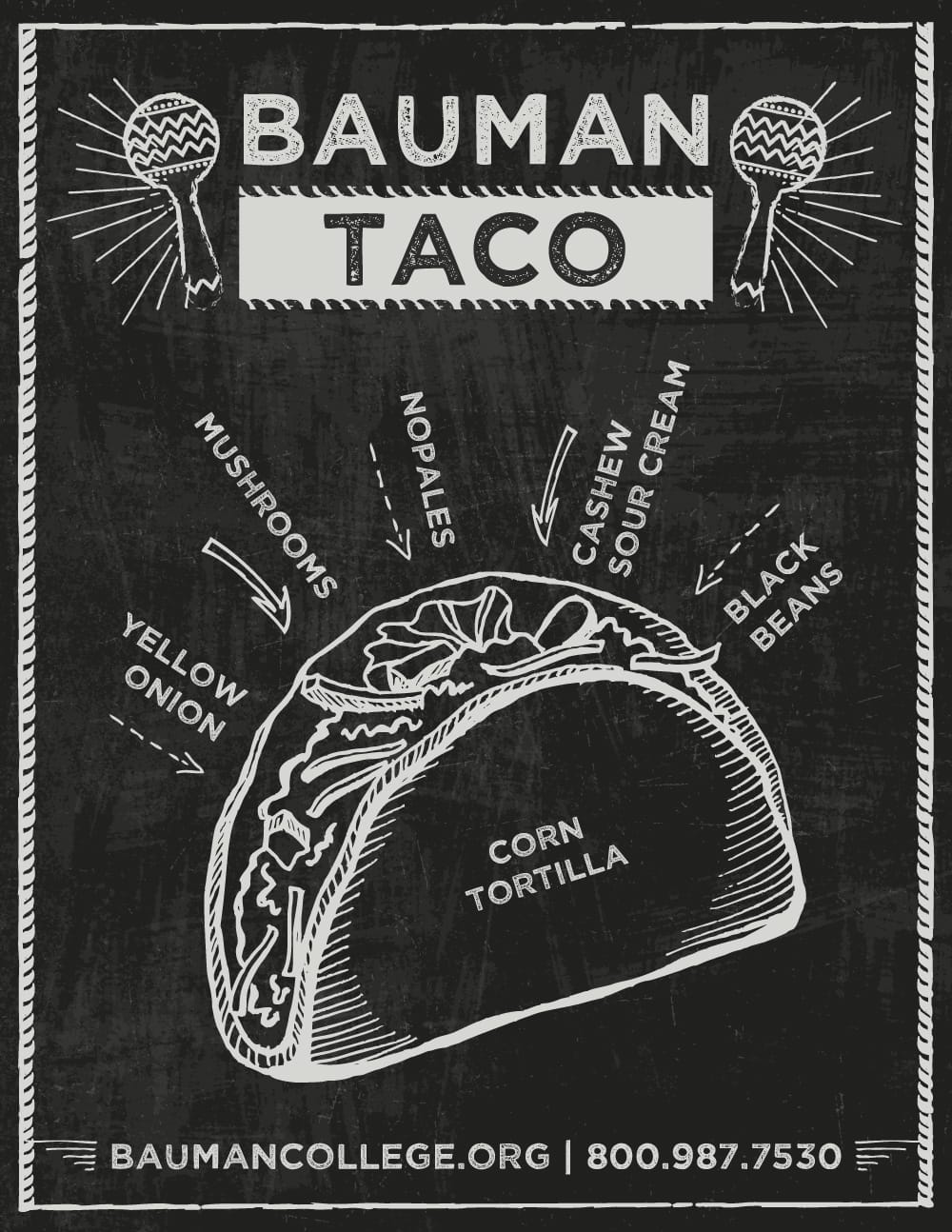 The Bauman Taco
Author:
Ingredients
[b]Cashew Sour Cream:[/b][br]
1 cup cashews, soaked 2 hours
¼ cup olive oil
2 Tbs lemon juice, from 1 large lemon
1 small clove garlic, sliced
½ tsp sea salt
¼ cup water, more if needed
[b]Taco Filling:[/b][br]
1 cup black beans, soaked overnight
1 2" piece of kombu
2 bay leaves
2 large nopales paddles, de-spined and cut into ½" thick strips, widthwise
5 Tbs avocado oil, divided
1 ¼ tsp salt, divided
1 medium yellow onion, sauté slice
10–12 oz maitake mushrooms, torn into thin strips
½ tsp ground cumin
½ tsp ground coriander
Pinch of cayenne
Instructions
[b]Cashew Sour Cream:[/b][br]
Drain and rinse cashews. Add to Vitamix with olive oil, lemon juice, garlic, and salt.
Start blending on low, adding just enough water to blend on high. Blend until cashew cream yields a creamy consistency. Adjust salt and lemon to taste.
Yields about 1 cup cashew cream.
[b]Taco Filling:[/b][br]
Drain beans and transfer to a large pot. Add water until beans are covered by at least 3". Add kombu and bay leaves. Over medium high heat, bring to a boil, and then reduce to a simmer. Cook until beans are tender but not falling apart, about 30–45 minutes. Drain, remove, and compost kombu and bay leaves, and set beans aside.
Preheat oven to 350°F.
Toss nopales with 2 Tbs avocado oil and ½ tsp salt. Transfer to a parchment-lined baking sheet and bake for 28–30 minutes, turning nopales after 15 minutes. Nopales should be lightly browned on the edges and tender.
In a medium-large sauté pan over medium heat, add remaining 3 Tbs avocado oil. When oil shimmers and flows easily in the pan, add onions and ½ tsp salt and stir. Sauté for approximately 8–10 minutes until onion starts to brown.
Add maitake mushrooms and sauté for 8–10 minutes more until all water released from mushrooms has evaporated and mushrooms are lightly browned and slightly crisp. Add spices and remaining ¼ tsp salt and sauté for 1 more minute until very fragrant. Remove from heat.
[b]To Serve:[/b][br]
On a corn tortilla, add a generous spoonful of beans, 4–5 strips of nopales, a spoonful of the mushroom mixture, and a generous dollop of cashew cream. Enjoy!
Notes
[b]Allergens:[/b] nightshades, tree nuts[br][br][b]Possible additions:[/b] salsa, hot sauce, crumbled Cotija cheese, or fresh cilantro