Congratulations to our 1st and 2nd place winners of the #SmoothieBowl2018 Instagram contest! These smoothie bowls combined beautiful presentation with a balance of creative and health-supportive ingredients.
1st Place: Nathan Tuckett (@tater2525)
Carrot + Goji Berry Smoothie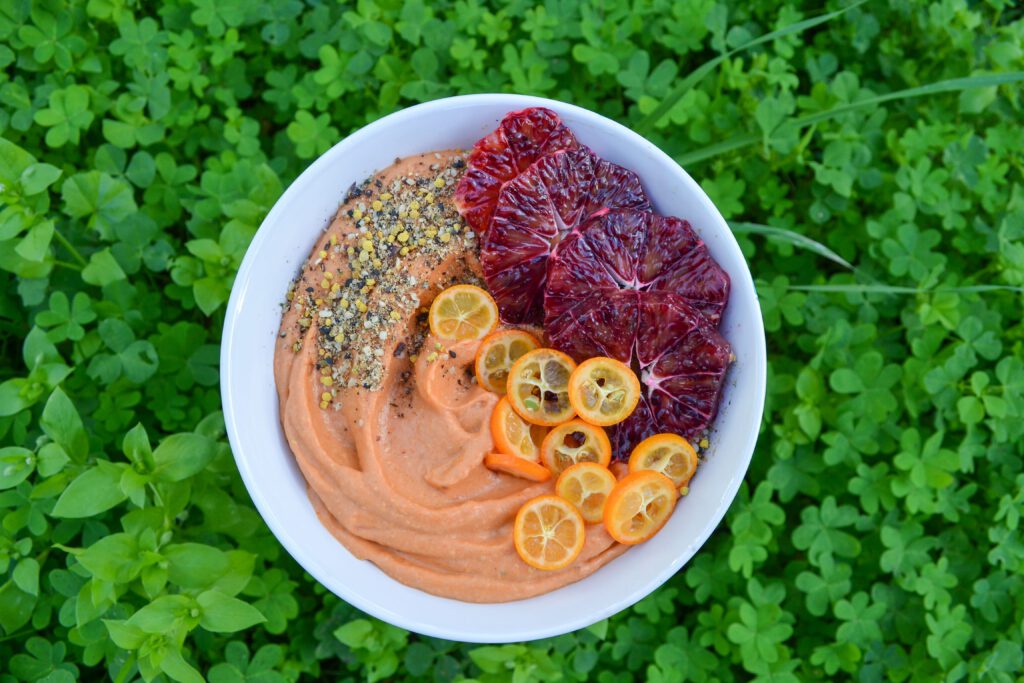 Trading in the cold Utah winters for sunshine and year-round access to fresh, local produce, Nathan Tuckett moved to the Bay Area in 2016 to pursue a career in holistic nutrition. Two years later, as a graduate of the Nutrition Consultant Training Program at Bauman College, he enjoys helping clients find the joy and power of food in the wake of a diagnosis. Currently, he consults with customers and private clients at The Food Mill, a uniquely Oakland natural foods store that opened its doors in 1933. Outside of work, you'll likely find him exploring the California coastline, or at one of the East Bay's weekly farmers' markets stocking up and plotting his next culinary adventure.

Carrot + Goji Berry Smoothie
Author:
Nathan Tuckett, Nutrition Consultant
Ingredients
1 cup carrots (steamed and cooled)
½ cup Japanese sweet potato (skin on, baked and cooled)
¼ cup goji berries (rehydrated)
⅓ cup green plantain
1 scoop whey protein (organic, grass-fed, and unsweetened – I like Tera's Whey)
½ cup coconut milk
1 thumb of fresh ginger root (peeled and sliced)
2 tsp ground cardamom
water (to reach desired consistency)
Instructions
Blend all ingredients together.
Pour into a bowl and top with blood oranges, kumquats, and a sprinkling of Breakfast Gomasio*.
Notes
*Breakfast Gomasio is a delicious and mineral-rich condiment made from:

2 parts ground flax
2 parts ground white sesame seed
2 parts dulse flakes
1 part black sesame seed
1 part hemp seeds
1 part bee pollen
1 part dried, ground orange peel

Note: keep Gomasio mix refrigerated until ready to use.
---
Green Goddess Smoothie Bowl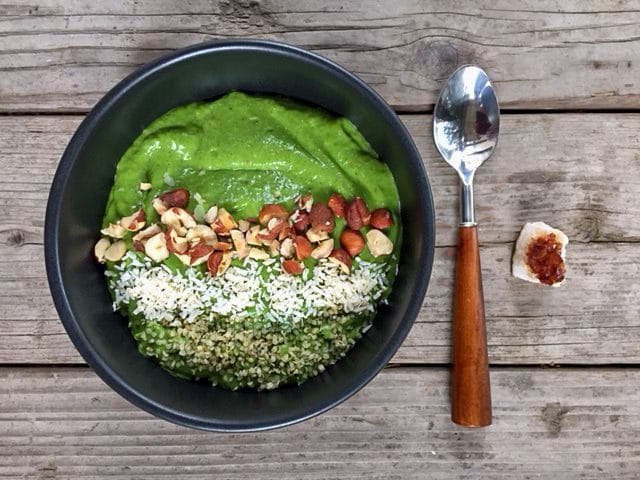 Trinity Hart is a licensed psychotherapist with a deep love of nutrition, nature, and integrative health and wellness. She is an aspiring holistic nutrition consultant and has a private practice with offices located in Sebastopol and Ukiah, California, where she helps her clients create more fulfilling lives. Trinity plans to attend Bauman College's Nutrition Consultant via Distance Learning Training Program this May. She loves crystals, farmers' markets, the sun, concocting herbal medicines, devouring mixed nut butter, and snuggling with her cat, Zahra (a.k.a. Sweat Pea, a.k.a. Crazy).

Green Goddess Smoothie Bowl: For Healing the Heart
Ingredients
½ apple (I used Honeycrisp)
½ pear (I used Bartlett)
juice of 1 lime
1 cup wilted dino/lacinto kale
2 cups fresh organic spinach
1 Tbs coconut oil
1 Tbs chia seeds
1 small banana (or banana-free smoothie cubes which include even more veggies, fats, and proteins)
1 Tbs ground golden flax seed
1 Tbs fresh ginger, grated or minced
1 medium avocado
nut milk to thin as needed (I used hazelnut milk)
Instructions
Blend all ingredients together to desired consistency and adjust taste to preference.
Top with hemp seeds, shredded coconut, and toasted, chopped hazelnuts.
Enjoy outside in the sunshine, ideally barefoot, with your toes kissing the earth.
Notes
Alternate toppings: frozen raspberries, nut butter, granola, or whatever your heart desires.